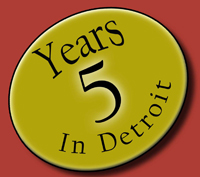 *No Vogon poetry, please.*
---
Welcome To
Leadfoot Press
---
THE PRESS
Leadfoot Press is a small organization dedicated to serving the arts communities in Detroit and across the Globe.
My aim is to make publishing available and affordable to the struggling artist. Our entire business philosophy is based on this idea.
THE STORY
I left Detroit for a couple years and tooled around the West and Midwest. When I came home, I was amazed at how vibrant and strong our artists were here. There's nothing like that blue-collar spirit. So I decided to find a way to do my part. My (girlfriend/wife/pal/lover) Carolyn, and my friend Ulysses, talked me into making a book of my poems. I did. Then I did it for another writer, then another. Before I knew it, I had a business, a website, and a list of VERY impressive clients.
Leadfoot Press operates on the belief that "Everything is Connected". Each poetry book is a part of this organization, and this organization is in every part of poetry. Every book is made by hand, my hand. And I give it the same attention and energy I give to my prayers, my marriage, my job, my life. It is a part of me and I am a part of it.
Come on in, nose around the pages, give me a buzz and I'll tell you more.